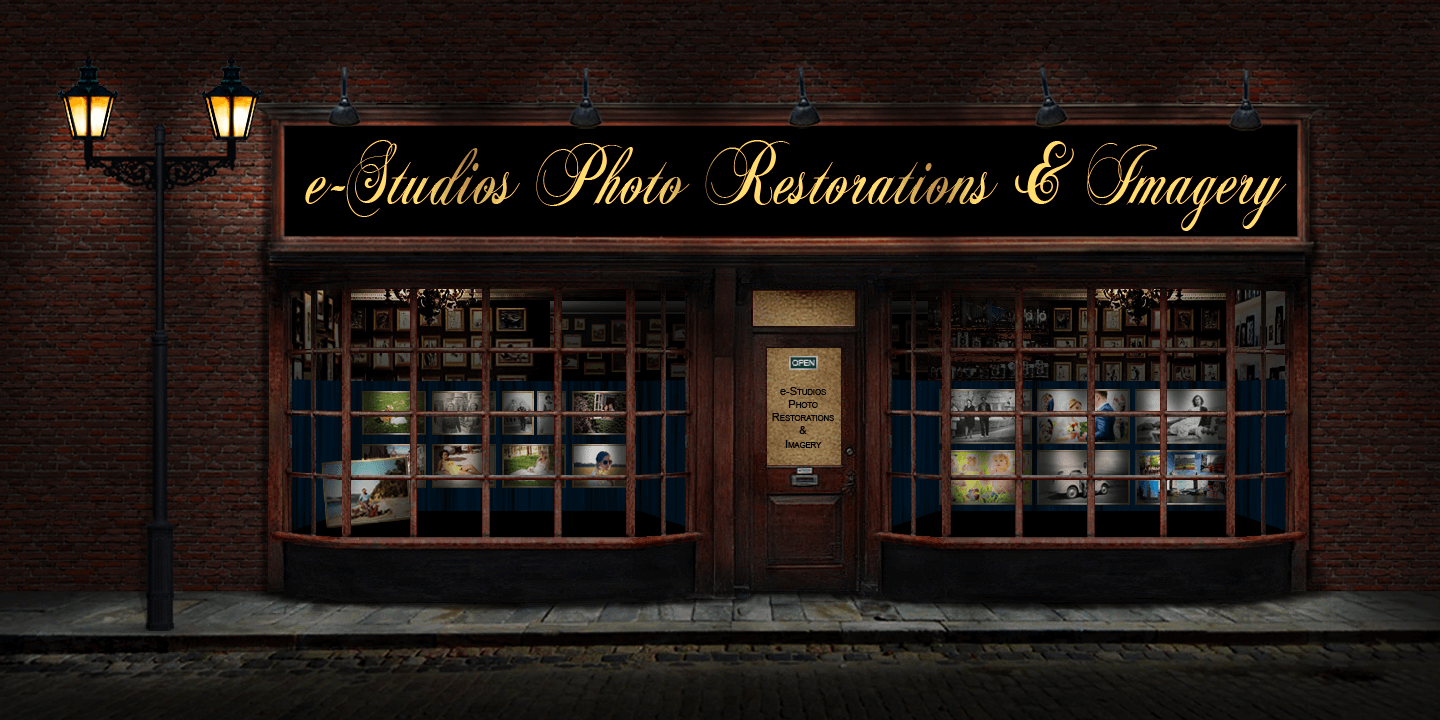 e-Studios Photo Restorations & Imagery
Welcome to our e-Studios
Here at e-Studios Photo Restorations & Imagery, we take great pride in our professional, unique, in-house photograph and document restorations service. We also offer a diverse range of unique imagery which may be created utilizing your treasured photographs or other images.
Our tailored, individualized, high quality artistic workmanship and services focuses on your specific needs and wants.
We meticulously restore and enhance your cherished monochrome or color photographs and documents, by employing state-of-the-art restoration and image-manipulation techniques and software.
Whether your original photographs are paper based, digital, slides or negatives, we can provide a variety of outstanding, state-of-the-art photo restoration and image manipulation options and services.
We can:
Sharpen photos
Crop photos
Remove red-eye effect
Convert photos to black and white or sepia, or any other color
Restore faded or discoloured photos e.g. photos that have aged and turned yellowish or reddish in color
Restore photos damaged by mould, water, spotting, age etc
Remove scratches, blemishes or creases
Remove handwriting or unwanted text
Restore tears, missing corners, backgrounds and other areas which may or may not contain detailed objects
Cut-out and remove objects and people
Cut-out, remove and replace objects and people
Reconstruct missing or damaged areas
Colorize photos
Stitch torn photos or documents together
Restore photos ranging from basic individual portraits to detailed group photos
Restore photographs of all sizes
.....and so much more...
Please note, the above list is not exhaustive. If you have any other requirements than those listed, please do not hesitate to email us. We would love to help.
Once your treasured photographs, documents and other images are restored, you will be able to print copies for framing or for your photo album; or view digital images on your large screen TV, computer or other devices; share them with family and friends on Social Media, via email; etc.
In addition to photo restoration work, we also carry out commercial work and freelance projects, including post-process photo retouching, editing and manipulation etc.
Selected examples from our Portfolios of photo and image work